HOW TO BECOME A TVCC AMBASSADOR
Check out the 2022 TVCC Ambassador program details.
A SAMPLE OF AMBASSADOR ACTIVITIES INCLUDE
Ribbon Cuttings
Greeters and Hosts at Networking Events
Event Promotion and Marketing
Committee Involvement
Welcome Calls to new members & Retention Calls to exiting members
Ambassador Meetings
Ambassador Appreciation events
Looking for a great way to maximize your Chamber Membership? Join the Ambassador Program and be the first to meet new members. The Ambassador program promotes the enhancement and ideals of the Membership Committee. Individual members are trained to become a mentor for the incoming new members of the Chamber. Ambassadors facilitate and promote Chamber events, welcome new members, and outreach to the Chamber membership as a whole.

We value all of our members, especially our Legacy Partners. These are members that have been with us for over 20 years, and their dedication knows no bounds!
What is the Legacy Partner initiative?
TVCC launched the "Legacy Partner" initiative in July of 2021 to recognize members who have been with the Chamber for 20+ years. With this program, we offer special recognition and appreciation to our longest-standing members.  We recognize that many of the businesses or professionals working at some of these businesses have contributed to our Chamber and Community development in extraordinary ways.
TVCC has developed a special icon/brand to distinguish our Legacy Partners.  Anytime that TVCC prints or displays the name of a Legacy Partner, we do our best to ensure that our Legacy icon is immediately next to the business or individual's name. Additionally, we recognize Legacy Partners in special event programs, on our website, and in commemorative e-blasts. We'll look to host special receptions and privileges for Legacy Partners too.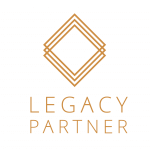 Student of the Month/Year Program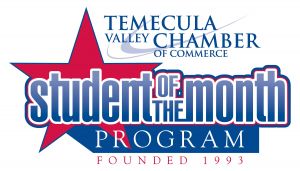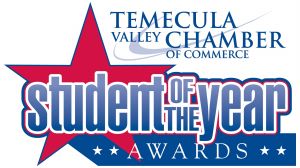 Program Mission: To bring the community together to honor and praise our local high school seniors for demonstrating character, integrity, love of learning, involvement in school activities, athletics, and community service, or the ability to overcome challenging life circumstances without compromising their education.  The "heartbeat" of Student of the Month is the student who makes a difference in their home, school, and community with sincerity and passion.  They must be college or trade-school-bound.
Founder: Sally A. Myers.  Founded in 1995/Student of the Month Program, Inc. Franchisee, Sizzler Restaurants/BMW Management
Chairs:  Amber Poncy, TVCC Special Events Manager
Event Support: Jerri Selway, Al Rubio, DCH Auto Group Temecula, Andrea Canchola, Sue Mai, Marcia McDonnell, Elsie Hart
Who Participates:
Temecula Valley High School
Chaparral High School
Great Oak High School
Linfield Christian High School
Temecula Preparatory School
Rancho Christian High School
Rancho Vista High School
Susan H. Nelson High School
St. Jeanne de Lestonnac Catholic School
Special Event committees are important for helping to curate memorable, valuable, and unique experiences that our members will talk about year after year. They ensure that feedback and suggestions from our members and attendees are heard. We aim to provide an experience with an emphasis on personalization at every event we host so that attendees can connect more deeply as they enjoy themselves at these occasions!
Special Event Committees:
Awards Gala
Wine Country Classic Golf Tournament
Temecula State of the City
Economic Forecast
Women in Business
Legislative Summit
Monte Carlo Extravaganza
Valley Young Professionals Cornhole Tournament
If you are interested in participating in these committees, please contact Amber@Temecula.org or call 951-676-5090.