With an extensive network of local businesses, as a Member of the Temecula Valley Chamber of Commerce, you have the opportunity to grow your company and be seen by many potential customers in our area.
We offer a variety of advertising opportunities from print, digital, social, or in-person opportunities to maximize your exposure and increase your visibility in the Temecula Valley. Take a look at our Media Kit as well as our Marketing Packages - let us know what would best suit both current needs AND future goals so that can create a custom package just for YOU!
Contact Megan Miller, Director of Marketing, to create a custom package and​ take your business to the next level.
CHECK OUT THE CHAMBER MEDIA KIT - Coming Soon!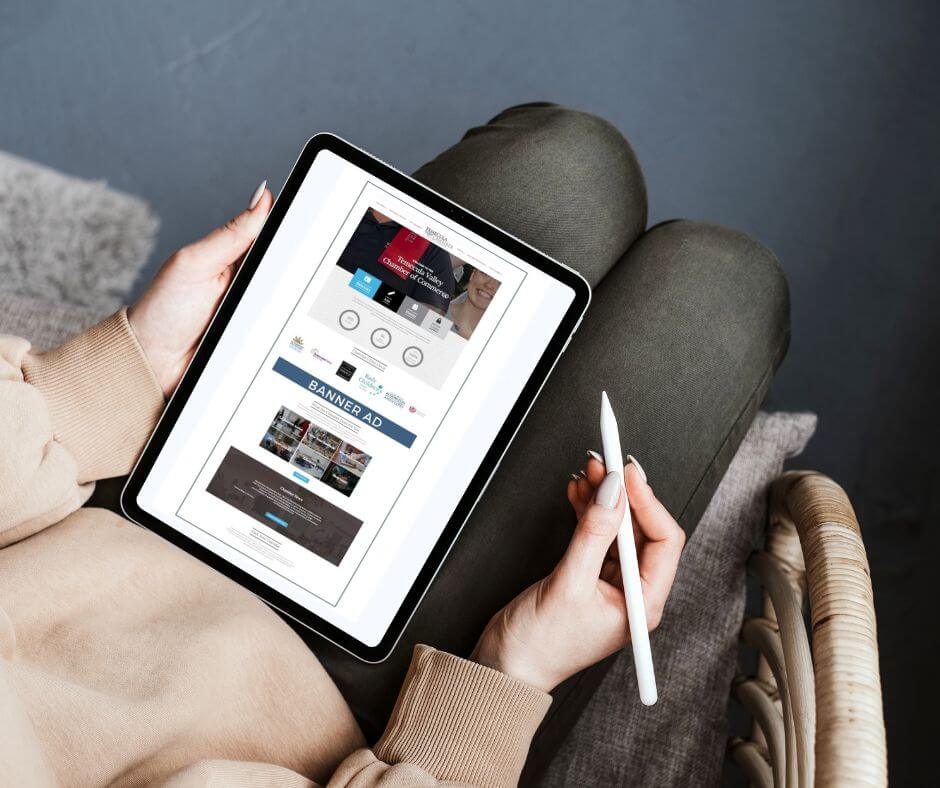 DIGITAL AD ​OPPORTUNITIES
---
WEBSITE ADS *NEW*
With over 9,800+ monthly page views, web ads are a great opportunity to get the most out of your advertising investment

Price: 1 Page

$100/month | $500/6 months ($100 savings) | $1000/year ($200 savings)

Price: 3 Pages

$300/month | $1500/6 months ($300 savings) | $3000/year ($600 savings)

Website Banner Ad Size: 1050 x 150 pixels Includes image and link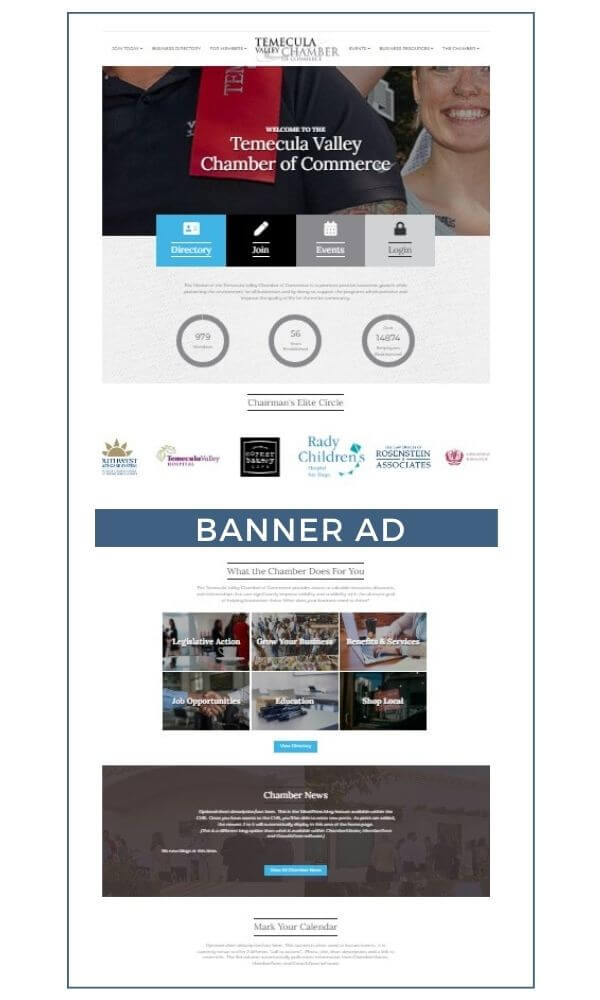 SOCIAL MEDIA AD ​OPPORTUNITIES
---
Tag @TemeculaChamber and send us your Instagram posts via IG Messenger for a chance to be featured on our stories and highlights. This is the FASTEST way to advertise your business. This service is included with your Chamber Membership. If you're looking for even more exposure, engagement, and reach, please select a Social Media Package for Facebook or Instagram from the table below.
Pro Tip: Add music to your stories and tag @TemeculaChamber
For more information on social media marketing opportunities please contact our Marketing Director, Megan Miller, at megan@temecual.org or call 951-676-5090 X307.
EVENT SPONSORSHIP ​OPPORTUNITIES
---
SIGNATURE ANNUAL EVENTS
Stand out as a community champion by sponsoring an annual signature event(s).
PROMOTE YOUR EVENT ​
---
ADVERTISE YOUR EVENT ON OUR PUBLIC CALENDAR
Add your event to our public calendar through your Member Portal/InfoHub. This benefit is included with your Membership.
PROMOTE YOUR OPEN POSITION(S)​
---
HIRING? ADVERTISE YOUR JOB OPENINGS ON OUR JOB BOARD
Add your Job Listing to our public Job Board through your Member Portal/InfoHub. This benefit is included with your Membership.
GET LISTED ON THE SHOP LOCAL DIGITAL DIRECTORY
---
ADVERTISE COUPONS FOR GOODS OR SERVICES TO THOUSANDS IN OUR AREA
Are you looking for ways to promote your business? Look no further! This online directory is designed to put your business's goods/services in front of local residents, tourists, and businesses. The Digital Directory is produced in partnership with the City of Temecula, Riverside County, local tourism, and community stakeholders.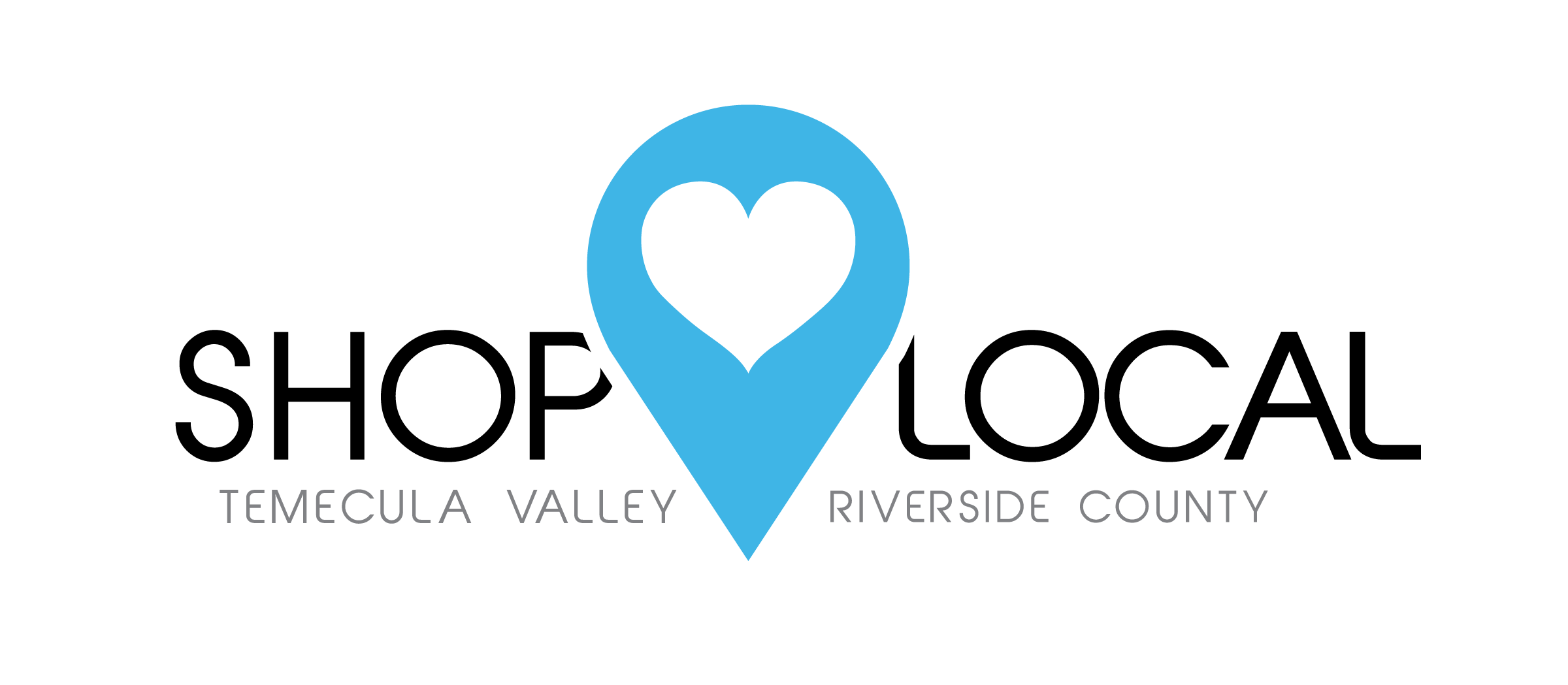 ---
CONTACT
If you have questions about advertising, please contact our Marketing Manager, Megan Miller, Megan@temecula.org or call 951-676-5090 X307.